Testimonials
Thanks for the recovery truck yesterday. I have attached a few photos of the Austin 7 taken at Donnington Circuit, for your social media sites. I could have fitted two of them on it!
Trevor
As Community Fundraiser for the Arthur Rank Hospice Charity, I'd like to say a huge thank you to Wallis and Son for kindly supporting us with our Christmas tree recycling scheme in January 2020. We required a number of vans for our volunteers to drive over the course of three days, and Ian Andrews who managed the majority of the rental process ensured everything ran smoothly for us. We look forward to working with Wallis and Son again in January 2021.
Chloe
Thank you for an amazing car, will definitely be hired again maybe for my 40th. Again thank you for everything and how organised you and your team were.
Mark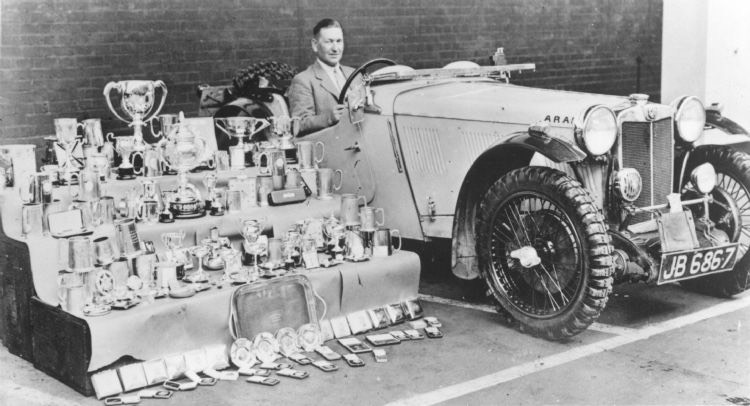 Here are a few photos of the MG we collected today using one of your transporters. Very many thanks for excellent Wallis service - all worked well.
The car is the sole survivor of the 1935/36 MG Works Trials Team, the "Three Musketeers". They were very successful in the 1930s, and I've attached a photo of the car with the Team's winnings in 1936. I've owned it since 1967, and have just completed a chassis-up rebuild over the last year.
John
Just wanted to say a big thank you for Friday!!
My son love his Maserati journey to the Old Hall and was totally surprised!! Well they both were even though one of them knew about it lol!!
They said the driver was great too!!
I will definitely recommend you guys to anyone!!
Thanks again!!
Kim
Thanks for loaning out the Stag.
It was a fun drive up to Norfolk. Elliot's grandmother must have turned a few heads back in the day. I completed my look by buying some leather driving gloves.
Aston Envy
A day in the countryside (sort of)
If it was not for our love of nice cars, my wife and I would be a lot better off than we are! The beautiful vehicles we have aspired to drive have always been just out of reach, but our latest dream is definitely an enormous lottery win away. What then to get this notion of ownership from our minds?
While looking through the advertisements on Ebay for the unaffordable Aston Martin DB9 I found what I considered to be the answer. A rental company locally would hire us one for 24hours. What a perfect gift to give my wife, thought I, and maybe I'd get to drive it as well.
I booked the car for her birthday, a bed and breakfast in Constable Country, and prepared a map of B and C roads to get us there, thinking there would be no point in sitting on dual carriageways in this silver beauty. No, powering through the bends and accelerating out of them while savouring the exquisite exhaust noise would be heavenly.
Months later, the sunny day arrived and we eagerly drove to the garage. After forms were filled in and endless signatures sought the car was finally brought to us. What a beauty, and the purr of the 6ltr engine invited us to explore this "silver bullet" further.
After being shown the controls we were left to take the sleek machine away. It felt like a huge responsibility, especially when my wife pressed the start button, and a noise resembling a rocket launch emitted from the rear. We looked at each other and rolled out to the main road on tick- over. Looking at my marked out map I called out "turn left" as we pulled out. My wife pressed the accelerator and we were half way across the road before she even got to turn the wheel! Never have we witnessed such power. Soon things were under control and we made our way through the pretty villages of Cambridgeshire, Essex and Suffolk. "When are we going to be on some proper roads" she said, and I realised that there was a difference between my fantasy and hers. Whilst I thought the noise, the power, the drama of the car was inspiring, what my wife really wanted was to be on a major road, being "seen"! We soon found that driving an Aston carries responsibilities we had not thought about. You can't be the car that holds anyone up, for instance, so you are constantly aware of others behind you. The car would be insulted if it was overtaken, it feels, so you drive to the speed limit as if it were a default setting.
Another thing one must consider when in charge of something like the DB9 is where to park it. Clearly a supermarket car-park is out, and anywhere it might get attacked by lesser vehicles is completely out of the question. On arrival at our B and B, we found a secure area away from the other vehicles, in front of a wooden gate, accessing the kitchen. At check-in, I asked if the car was ok where I'd left it, and was assured it was fine. It seems all the staff witnessed our arrival, and we became, it felt "the couple with the Aston". I was delighted that our baby was visible from our bedroom, and silently wished it goodnight as I pulled the curtains shut.
In the morning, my routine was altered as clearly the first job was to open the curtain and ensure "silver bullet" was unharmed. I was concerned when I heard the fruit and veg delivery driver, loaded high with boxes, brush past the front wing. Rushing downstairs with the keys feeling like a celebrity I asked if they'd like me to move it. "Give me the key and I'll move it for you" said a member of staff having a cheeky fag.
"It's OK", I replied, and jumped in as elegantly as my 58 year old body would allow. Firing up the engine (people just stop and stare), pretending that this is quite normal, I reversed the car for the first time. Vision was frankly limited, but I did a fair job of looking like I could park in a parallel fashion on the road outside.
After breakfast, my wife said (it was after all "her" present) that I should drive the next bit, and I relished every gear change, every hugged turn, every note from the exhaust and the awesome power as we made our winding way towards our destination.
Parking away from the other cars of course, we stopped briefly to get some information from a local tourist guide. On our way back to the car we spotted a gentleman peering through the passenger window, his hands pressed to the glass. Not sure what to do, we paused and watched as he took in every detail, walking around and appraising every contour of her beautiful bodywork. Eventually he strolled away, but I admit to watching his face as I pressed the start button and pulled away.
Our day was coming to an end, and my wife took to the wheel again, just one more stop to visit "The Haywain" then home. Pretty countryside, a rural Church, and Oh, a wedding! Bride, groom, brides-maids all gathered on the roadside presumably for the photos. We stopped at a T junction, taking in the picture, enjoying the moment, when another car pulled up behind us. Pressing the throttle to pass the wedding party we were a little embarrassed that as one they turned towards the sound of our beautiful car roaring away towards home. On the major roads we felt like VIPs as other cars seem to pull out of the way when they saw us in their rear view mirrors, and eating up the miles we soon had to return the car sadly to its rightful owner.
Has our trip removed the desire of ownership? Probably not, but the reality of running costs, depreciation, impracticality all mean that unless that lottery win happens, it will remain a dream.
At least we had our moment, and we'll never forget it!
Simon Gale
Good Morning Elliot,
Just a quick thank you for the car at the weekend, my husband loved it and even let me drive some of the way home!
Bother delivery and collection chaps were really helpful and friendly, will be in touch next summer (Steves already been trawling your website for what he would like to try out next)
Best regards,
Laura
Morning Elliot,
Just wanted to say a big thank-you to you, your staff and Aston Martin (guess I should include them) for the car this last weekend. Mandy was truly dumbfounded when Ian showed up, and even when she was stood next to it she didn't realise it was for her. Ian was very patient and helpful explaining everything we needed to know.
The DB9 is of course everything you want it to be, devastatingly fast, brutal yet so beautiful refined and eloquent even, if we weren't fans before we certainly are now.
It was a shame to see her go back yesterday afternoon.
So many many thanks for all your help and patience, in helping with this, the service from your company is top drawer and I won't hesitate to recommend or use you again in the future.
Regards Paul
"Hi Elliot,
Thank you, a brill day had by all and thank your driver. :)"
1952 Ferguson TED20
Mr & Mrs. Waters.
Just back after a great return trip to Italy! The Ford Transit (we named her Betty) performed brilliantly. Drives like a car, very comfortable with loads of cubby holes. Apart from a few insect/bugs on the from she's in perfect shape.
Elliot,
The car went down very well and the bride and groom mentioned a good few times.
Thanks for all your help and sorting the ribbons!!
All the best
Simon
Hello Adam,
I just wanted to send this quick email to say a huge thank you to Wallis and Son / Active Rental for last Saturday.
The car was great.
But more importantly is the extraordinary service from the company. Just if you didn't know, my wife let her handbag in the car with her passports and only realised they were lost at midnight. I spoke to Tina, on your switchboard divert, who rescued the situation. She had one of your team immediately go out to the car and check and retrieve it, and then she called me back within a matter of minutes. This was a huge relief, not least of all becasue we would have been unable to fly back.
This extra effort was really appreciated and saved the evening from a frustrating finishing note.
So a big thank you to all involved for this.
B. Rgds
Dustin.
Hi Jamie,
Just wanted to say a big thank you for the excellent quality of service I received this weekend, especially in fixing the remote central locking on my car! If I rent the ranger for a week can I get a re-spray in that time?!!
Kind Regards
Kate
Thank you from: Mr. Stewart
Mr Stewart (Senior) was very happy with his 75th birthday present, the hire of the DB9 for a week
Mr Stewart
Whittlesford Ball and Barton Ball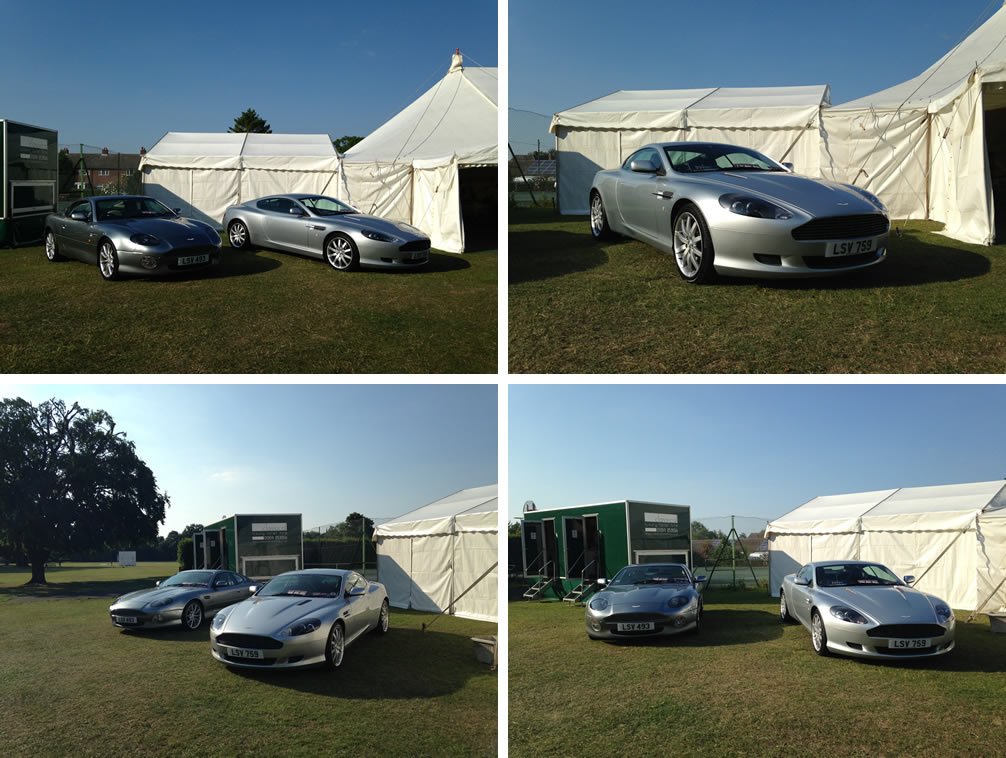 Good morning Elliot.
Just to let you know that the evening went really well on Saturday, with bids on the Aston Martin far outnumbering and outstripping every other auction item. It went for £525, which is a fabulous result. I will forward you the winner's details, and I'll be passing them all the information and T&C for the day's hire.
Please pass on to Nicola and Paul my thanks for bringing the cars down and helping to get the evening going. All the leaflets we displayed in the marquee were taken.
Very best wishes
Caroline
Mr & Mrs Hurst hired the DB9 and DB7 for their 40th Birthdays
Mr & Mrs Hurst hired the DB9 and DB7 for their 40th Birthdays, they took them to The Malmaison Prison Hotel in Oxford for the weekend, the Hotel Car park was broken so they were parked outside the front of house on full show for the weekend looking very impressive and attracting a lot of pictures from the foreign tourists that visit Oxford.
Mr & Mrs Hurst
Daniels Construction Hired the DB9 to stay in a luxury hotel in Berkshire
Hi Elliot,
Good to see you earlier, thanks once again for hiring me the db9 at a good rate, its much appreciated and was a great car to drive for the long weekend.
Thought I'd send you this slightly different picture of the whole car, no 458 Italia in this one though...
See you soon
Cheers
Alex
Determinating Young Kids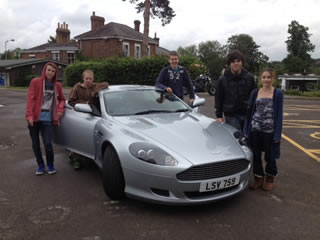 Mr Stewart a good customer of Active Rentals Hired the DB9 for a week to help young kids by showing them how you can make something of your life by hard work and determination like he did.
Wedding
Right at the very last minute the day before our eldest daughter's wedding the vintage hire company we had booked cancelled on us as they were panicking about the snow that was forecast!
We called Elliot at Active Rentals and they immediately came to our rescue with a chauffeur driven Bentley and Mercedes S class.
What we then experienced was first class, extraordinary, amazing and 'beyond the call of duty service' as Adam their chauffeur drove our guests from our home back and forth to their various hotels through the night and well into the early hours of the morning in the worst snow conditions we had all winter.
On the Sunday once again there was Adam, still smiling and on hand with the Bentley providing total flexibility and accommodating our family guests as they changed their arrangements before driving the bride and groom off to London to start their honeymoon.
If brand is the way we make others feel well our guests with ages ranging from 6 months to 90 from Australia, South Africa, Hong Kong, Germany, Spain, many parts of the United States and of course all over the UK will remember the magic of the snow and the way they were treated by the superb 'can do, will do' attitude of Active Rentals.
Robert Stewart.
Father of the Bride. Entrepreneur and philanthropist.
Mr. Stewart

Stevenage Packaging Ltd. celebrated their 23rd Birthday in 007 style. Mr Stewart hired our Aston Martin, here are some of the images.